GhoulNextDoor.Com is dedicated to the memory of Duane Jones.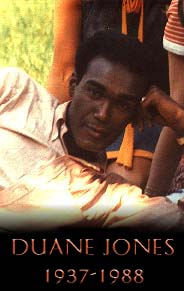 The following is a lovely tribute to Duane by a personal friend of his.
Remembering Duane Jones
For those of you who know Duane Jones only from Night of the Living Dead, I'd like to share a few memories of a teacher, mentor and friend.
Like many of you, I discovered the movie late one night and, besides having a great scare, was impressed by the strength, humanity and compassion in Duane's performance. Quite by accident, I had the opportunity to meet and get to know him, and came to realize that the qualities I saw in the movie were very much part of the man himself.
I had enrolled in the American Academy of Dramatic Arts and eventually came to notice a very tall, dignified black man with a booming voice, often surrounded by a group of students. He looked familiar, but it took a while before I realized where I knew him from. A conversation with a fellow student confirmed what I had begun to suspect: this guy had been part of one of the scariest, most fun experiences of my life. What's more, my friend raved about Duane's skill as a teacher and director.

Second year was performance year, and Duane made a point of seeking me out after my first play that year to compliment me. I had never actually met him before, and yet he went out of his way to provide the kind of feedback every actor needs and hopes for. For my second-play audition, I picked a particularly awful character, one who made liberal use of the "N" word. It was only after I stepped on stage that I realized Duane was sitting front-row center. Sweating bullets, I got through my nasty speech, anticipating nothing but awkward silence. Duane led the applause.
As luck would have it, he directed me in my next show. He pushed and encouraged all of the actors to explore their characters, to find depth when some of us would have settled for easy choices and caricatures. The show was an overwhelming success, and I think the performance he got out of me was one of my best.
After graduation, several of us decided to try forming a troupe of our own and without hesitation, Duane offered to help us. He directed our first play (oddly enough, about the Donner party - pioneers reduced to cannibalism to survive their journey) and turned a bunch of near-amateurs into hardworking professionals. He introduced us to people in the industry, brought them to the show and when it was all over, thanked US for the opportunity to work together.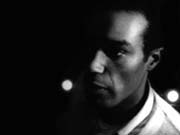 (Of course there was the time I thought he was going to kill me. During rehearsals for that play, being a wise-ass, I had made some crack about a particularly striking scarf he was wearing (the guy dressed with flair). He said nothing, we went through a two-hour rehearsal, and it was only as we were leaving, when just the two of us were left in the room, that he lifted me up by my lapels, pinned me to the wall, fixed me with a fiery stare and said, "Now what did you say about my scarf?" I was so scared all I could do was laugh hysterically, at which point he started laughing, and I think that was the day our friendship was truly made.)
It was then I began to learn about his long and distinguished career: his advanced degrees, his other teaching and directing, and his work at the Richard Allen Center, a major cultural center in Harlem.
After the Donner play, he became the head of the drama department at the State University of New York at Old Westbury. Unfortunately, between his work and mine, we were less in touch, but here is one more measure of the man: when a mutual friend was in some serious trouble, and got his name in the paper, Duane called out of the blue, after our not talking for nearly a year, offering to help in any way he could.
I read about his death from heart failure in the paper while riding the subway, and by the time I got home, there were messages waiting from so many of the people he had touched. Even those who had spent only a little time with him were heartbroken that such a light had gone out of the world. But we took comfort from an incredible memorial service at a packed cathedral in Harlem, filled with music, dancing, laughter and speech after speech about the effect he had had on people's lives. A theater at Old Westbury is now named in his honor. I think that would thrill him the most.
When I first met him, I entertained a lot of friends with the coincidence of my actually meeting "the guy from NOTLD." Oddly enough, I'm not sure we ever even discussed the movie other than in passing. Very soon, I came to forget the famous face. I am really proud to say I got to know him as an extraordinary and inspiring human being, and as a friend.
-Barry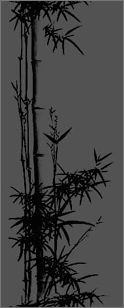 Zombie Zen
You can't kill the dead
For they are always hungry
Beware or you're next.

~Jeff Tammaro