The Birth of a Karen Cooper Tattoo: The Bloody Sequel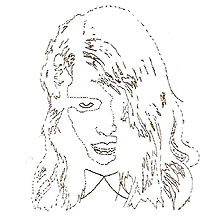 Matt "Slug" Brown was kind enough to send me these photos of his ink from the conceptual drawing to the finished tattoo. The artist is Jimmy Kuder III of Glory Bound Tattoos in Pleasant Hill, Missouri. Thank you, Matt -- it's bloody beautiful!


The stencil is on.

Ouch! I feel a little queasy.

Looking good!

And a gorgeous, new Karen Cooper tattoo is born.
I'm one step closer to total world domination.
Thanks again, Matt!

Tattoo Gallery pages:
Previous<--- 1, 2, 3, 4, 5, 6, 7, 8 --->Next


Zombie Zen
Bloody flesh and guts
Make warm and yummy tummy
Just can't get enough.

~Scarlett R. Huffman