Fran Pinto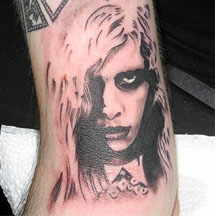 The Artist:
Chicho
Galaxy Needle
Calella, Barcelona, Spain



André Rônei
The Artist:
Unknown
São Paulo, Brazil



Josh O'Neil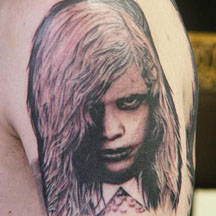 The Artist:
Aramis Pugh
Chrome Lotus Tattoo
Idaho Falls, Idaho



Chris Carter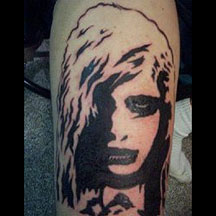 The Artist:
Danny Cuvay
Hamilton, Ontario, Canada



Jay R. Pratt
Designed by Jay R. Pratt
The Artist:
Jim Sadewater
Dreamline Tattoo
Rockford, Illinois



Tattoo Gallery pages:
Previous<--- 1, 2, 3, 4, 5, 6, 7, 8, 9, 10, 11, 12, 13, 14, 15, 16, 17


*Special thanks to Nick Yak for being the inspiration for this Tattoo Gallery.

Several people have asked if I could provide a high quality "face" image for use as a tattoo template. Always happy to support the arts, I've posted a link to a high resolution Karen-face to aid in your quest for the perfect tattoo. Feel free to download it and take it to your favorite tattoo artist.
Of course, I'll expect to see pictures of the finished ink!

If you are the proud owner of a "Karen Cooper Face" tattoo, send me a photo and I'll hang it in the Gallery.