The Birth of a Karen Cooper Tattoo
I met Martin Flemming at Crypticon in Minneapolis. He told me that he wanted to get a Karen Cooper tattoo, and as luck would have it, Monster Ink Tattoo of St. Paul was set up at the con. Marty talked with Garrett, the artist, and made an appointment to have it done the very next day. I asked if I could document the process and Marty and Garrett kindly agreed.

Here's Marty with the initial sketch on his arm. It met with Marty's approval and after I snapped the photo, he took off to get inked.



I walked over to check on Marty, and discovered that Garrett had already made a lot of progress on the tattoo. Marty was smiling and apparently happy with the results at that point. It was turning out to be a beautiful tattoo.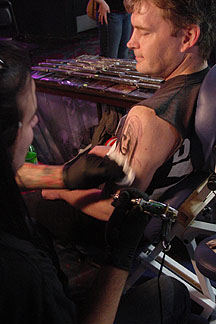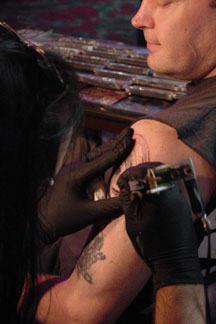 Looks like a finished tattoo, right?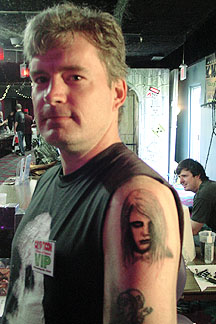 It just needs one final touch...

Marty asked for my signature below the image and I gloved up to do just that. Garrett stood by to make sure I spelled my name correctly. There's a smartass in every crowd.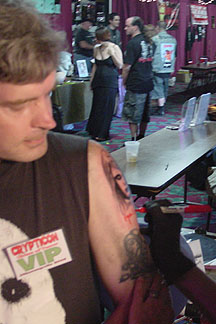 And here it is! Marty's shiny (and still slightly inflamed), new Karen Cooper tattoo! Garrett did a superb job -- throw him some business if you're in the Twin Cities area. And thank you, Marty, for wearing my little nine-year-old face on your arm!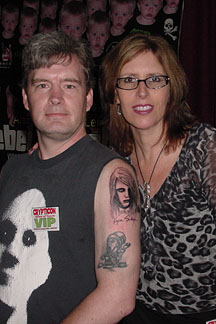 Tattoo Gallery pages:
Previous<--- 1, 2, 3, 4, 5, 6, 7, 8, 9, 10, 11, 12, 13, 14, 15, 16, 17 ---> Next


*Special thanks to Nick Yak for being the inspiration for this Tattoo Gallery.

If you are the proud owner of a "Karen Cooper Face" tattoo, send me a photo and I'll hang it in the Gallery.